What Book Are You Looking For?
Letters to Trump (Hardcover)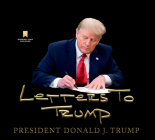 $99.00

Usually Ships in 1-5 Days
About the Author
---
Donald J. Trump launched the most extraordinary political movement in history, dethroning political dynasties, defeating the Washington Establishment, and becoming the first true outsider elected as President of the United States. His inspiring, groundbreaking campaign proved pollsters, pundits, prognosticators, and the corporate media spectacularly wrong. He mobilized voters with massive rallies, reached America's hearts and minds with his vision for national rejuvenation, and overcame virtually every entrenched power structure--political and financial--and achieved a decisive victory, winning states no Republican presidential candidate had won in decades. The forgotten men and women of America were forgotten no more because we finally had a President who put America First.